3M™ Scotchcal™ Striping Tape 70108, Blue, 1/16 in x 40 ft
3M™ Scotchcal™ Striping Tape 70108, Blue, 1/16 in x 40 ft
Add

$199.00

worth of items to your cart to qualify for


Order In Bulk
DIMENSIONS
Height:

0.19 Inches
Width:

5.00 Inches
Length:

6.13 Inches
Weight:

0 Lb(s) 1 Oz
Product Benefits
Striping Tape creates professional-quality accents on vehicles
Vinyl backing is strong, conformable and withstands harsh weather
Adhesive allows for easy peel-and-stick installation
High performance tape adheres reliably for lasting performance
Available in a wide variety of colors for new designs or matching
More Product Details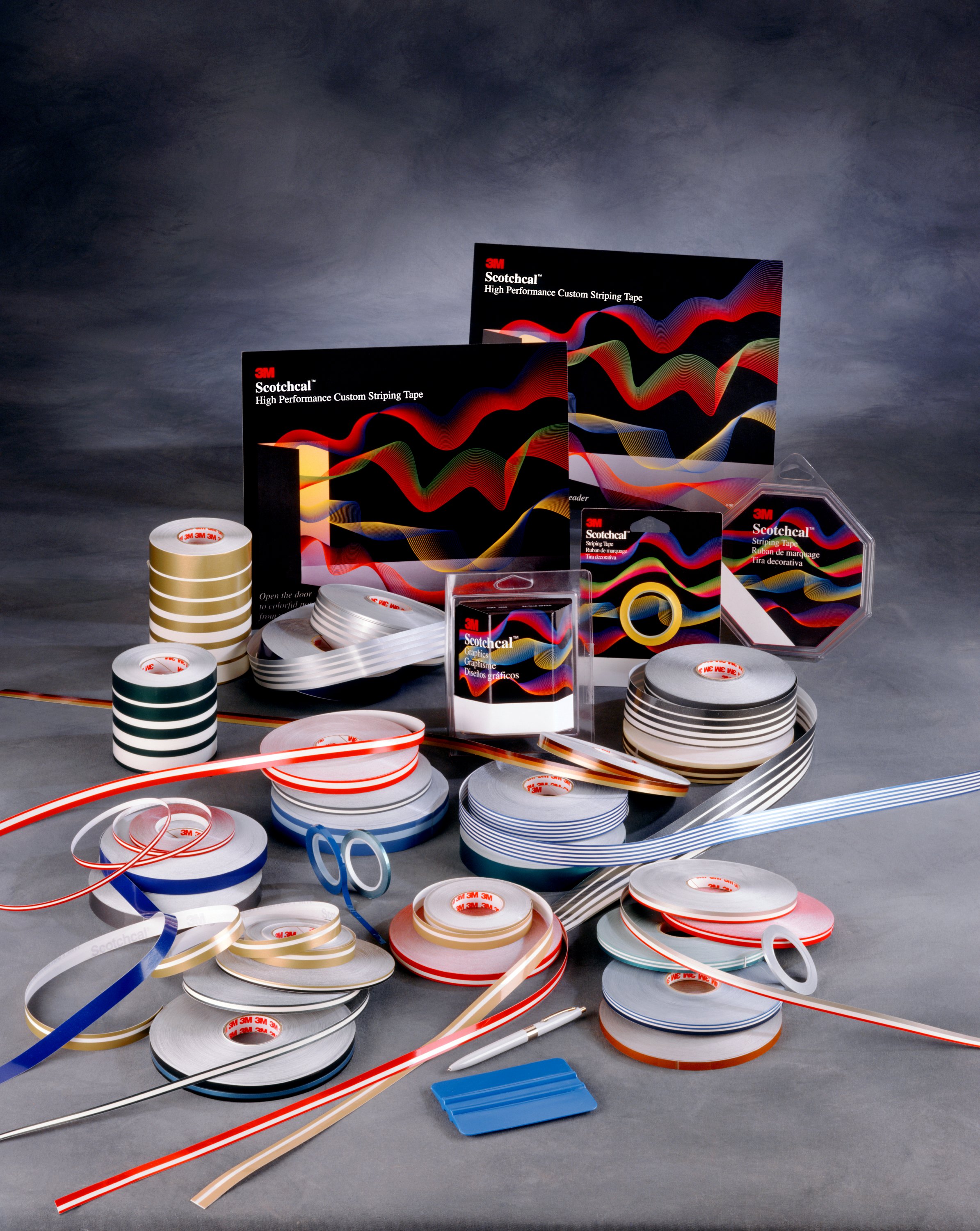 For semi-permanent graphic applications on a wide range of automotive exterior body panels
A Simple Step to Enhance the Look and Appeal of Vehicle
Customize the appearance of vehicles with 3M™ Scotchcal™ High Performance Striping Tapes. This pinstriping tape gives added flare that makes cars and trucks strand out in the crowd. With an incredible range of colors, it's easy to customize the appearance of most any vehicle.
See the 3M™ Scotchcal™ High Performance Striping Tape Color Card
(PDF, 2.2 Mb)
Long-Lasting Qualities Make 3M Striping Tape a Top Choice
This tape is fully pigmented with resistance to UV rays to resist fading in the sun. The adhesive is formulated to resist moisture, heat and cold for reliable adhesion in all weather extremes. Tough vinyl backing resists cracking, splitting or flaking in nearly any environment. Overall, this tape has excellent lasting power to satisfy the most discriminating automotive professional.
Professional-Grade Striping Tape
This striping tape creates clean lines without any harm to the vehicle's finish. It's a flexible tape that lays over the curves and contours of vehicles extremely well. Auto body technicians appreciate this tape for its ability to handle tight radius curves and excel at paint line definition.
Simple installation
Peel-and-stick adhesive allows for easy installation. Be sure to clean the surface of the vehicle of any tars, grime or residue before applying. Just anchor the tape at a starting point and position as desired. If the exact position is not achieved at first, the tape may be gently lifted to reposition. Once the desired position has been achieved, apply pressure with your thumb or a squeegee to secure the tape to the surface. As an added benefit, this tape comes with an easy- to- remove transparent masking film to protect it during installation.