Industrial Tool Vending Machines for Sale
Standardize Your Business Process With Industrial Vending Machines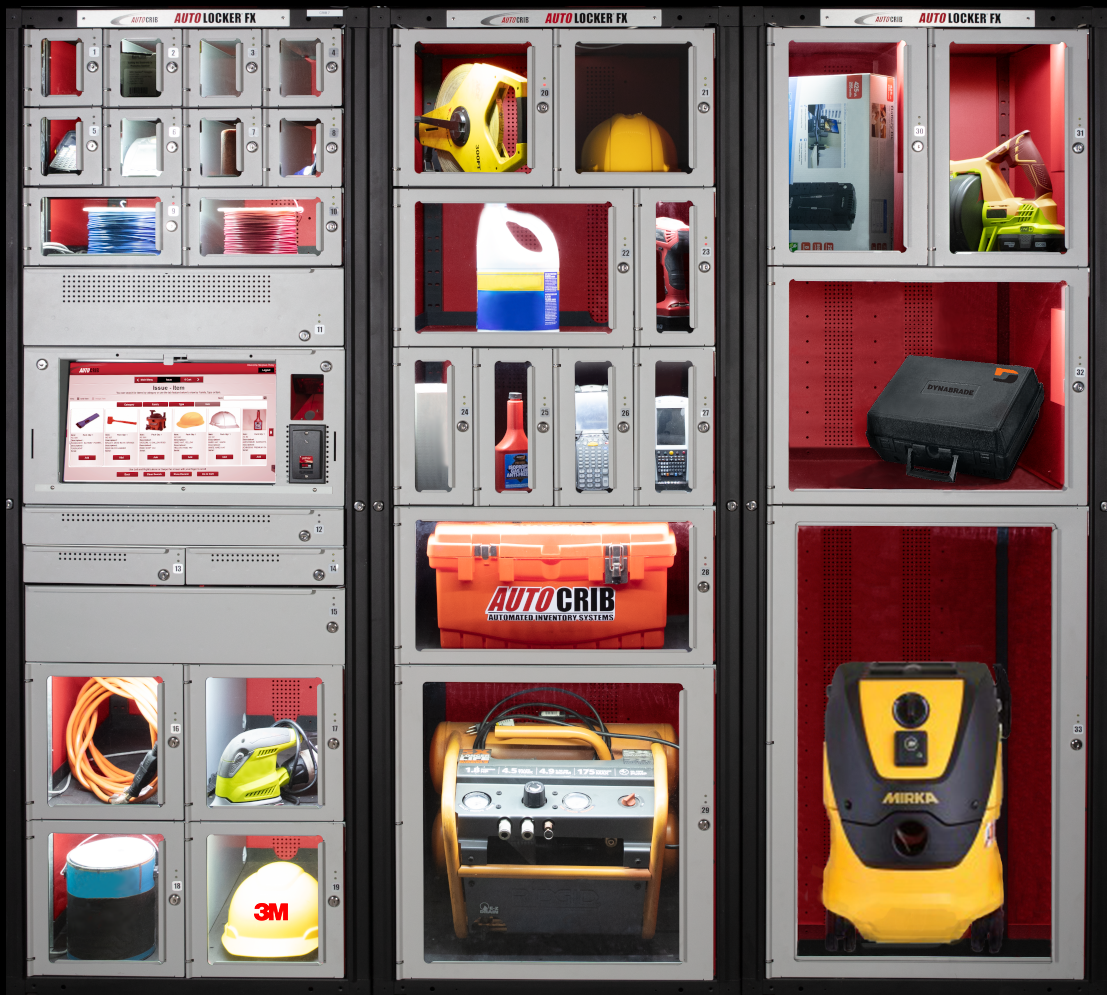 Ward & Kennedy installs industrial tool vending machines to maximize your workplace efficiency. With industrial vending machines, you can cut down on downtime and losses by keeping track of what's being used and how often it's used. The machines' ability to be fully automated and customizable makes them a valuable investment in almost any industry.
Industries Served
Industrial vending machines can be beneficial in any industry that requires efficient inventory management and controlled access to tools, equipment, and consumables. Some of the industries commonly using our industrial vending machines include:
Manufacturing -

helps manage and control the distribution of tools, components, and parts needed for production processes

Construction -

track and distribute construction materials, safety equipment, power tools, and other supplies required at job sites

Food & Beverage -

used to store and dispense equipment and tools needed for food preparation and production for employees

Maintenance & Repair -

facility management, HVAC (Heating, Ventilation, and Air Conditioning), and industrial maintenance, organize and distribute tools, spare parts, and consumables to technicians and service personnel

Energy & Utilities -

Power plants, utility companies, and renewable energy facilities use them for special equipment and safety gear as needed for maintenance and operations

Healthcare - many hospitals and medical facilities use industrial vending machines to dispense and track

surgical instruments, disposable gloves, and other frequently used items

Mining & Oil - used to distribute tools, safety equipment, and other supplies needed to complete the job
Transportation & Logistics - used to

distribute vehicle parts, maintenance supplies, and tools needed for the repair and upkeep of vehicles, warehouses, and distribution centers

Pharmaceutical - used for c

ontrolled distribution of medication and controlled substances as well as laboratory supplies
Popular Vended Items
First Aid Supplies (fire extinguishers, safety signs, safety locks, emergency eyewash stations, and first aid kits)
Maintenance/repair supplies (

screws, nuts, bolts, washers, anchors, and other small components)

Safety Equipment (gloves, goggles, helmets, earplugs, respirators, safety vests)
Tools (

wrenches, screwdrivers, pliers, hammers, and power tools such as drills, saws)

Measuring equipment (

measuring tools, gauges, thermometers, multimeters, and other equipment used for quality control and testing)

Welding supplies (

welding electrodes, welding wire, welding gloves, welding masks, and other welding-related consumables)

Adhesives (tapes, coatings)
Abrasives (discs, belts, wheels, tools, sheets/rolls)
Frequently Asked Questions About Industrial Vending Machines:
What Are Industrial Vending Machines?
Industrial vending machines operate similarly to regular vending machines. Employees gain access with a card, code, biometrics or any method you choose to dispense the tool or item they need. The machine tracks every usage and organizes that data to help you find ways to improve your workplace efficiency, such as identifying optimal times to repair and restock their contents. These processes can be fully automated to prevent shortages and losses ahead of time.
What can I stock a vending inventory machine with?
These machines can be filled with just about anything and are always ready to go. Different types of machines can be linked and operated from a single terminal, allowing different types of items to be stored and managed together. These qualities eliminate the need for inventory management personnel and their compact size opens up a significant amount of floor space. When returning items, users can rest easy knowing that their items are stored in a secure and convenient location.
Industrial vending machines can be stocked with items from any number of applications, including:
Are industrial vending machines suitable for different industries?
Yes, industrial vending machines have extensive utilization across diverse sectors, such as manufacturing, construction, healthcare, automotive, and aviation. Any industry seeking regulated inventory access can derive advantages from adopting an industrial vending machine system.
Are industrial vending machines easy to maintain?
Industrial vending machines are created to be easy to use and need very little upkeep. Regular maintenance usually involves refilling items, updating the software, and ensuring the machine functions correctly. Vending machine providers usually provide support and maintenance services to ensure everything runs smoothly.

How can I implement an industrial vending machine system in my facility?

Implementing an industrial vending machine system involves selecting a reputable vending machine provider, assessing your inventory needs, customizing the machine setup, training employees, and integrating the system with your existing processes. Working with an experienced provider ensures a smooth and successful implementation.