Dynabrade Adhesives, Power Tools & Abrasives
Shop Dynabrade Products: Sanders, Polishers & Die Grinders
Since 1969, Dynabrade has been a developer of innovative tools for filing down metals and other hard materials. Every tool they manufacture has optimized airflow, scrap reduction, and quality performance. Their powerful grinders, sanders, and polishers are designed to be handheld without sacrificing power. Made in the USA, our selection of Dynabrade tools is available online for individual sale and bulk orders.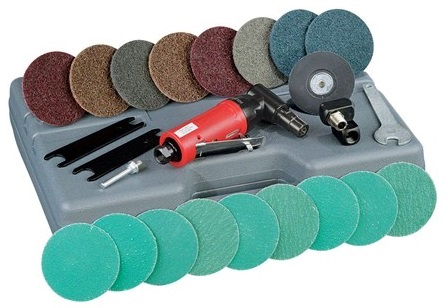 Dynabrade products include:
Dynabrade Meets V-V-I-S Standards
Dynabrade tools are made to meet "V-V-I-S" standards, meaning:
Vacuum: Dynabrade vacuum tools are designed to remove airborne contaminants before they cause eye and lung irritation.
Vibration: Dynabrade tools reduce vibration using insulated rubber housings and handles. This prevents long-term repetitive stress injuries.
Insulation: Dynabrade pneumatic tools use thermal-insulated housings to prevent cold air from affecting their performance.
Sound: Quieter tools protect ears and provide long-term hearing protection.
Shop all our high-quality Dynabrade products online today to get everything you need for manufacturing, collision repair, and more.
Dynabrade Abrasives
We carry a wide variety of Dynabrade abrasive products, from brushes to belts, to burrs and more. Dynabrade is a leader in surface finishing solutions and offers an extensive list of replacement parts, so you can keep your machine up and running for years.
Dynabrade Bi-Metal Reciprocating Saw Blades
We offer replacement reciprocating saw blades for abrasive materials, fiberglass, and metals. Their specialty coating resists wear and friction.
Dynabrade Diamond Cut-Off Wheels
The hardest material is a must for cutting and finishing the hardest materials, things like thermal sprayed tungsten carbide, chrome oxide, glass, composites, stone, chilled iron and forged steel. We offer three sizes of cut-off wheels:
Dynabrade Diamond Mounted Cut-Off Wheels
Dynabrade's diamond-mounted cut-off wheels are diamond-lined and excellent for cutting and trimming fiberglass and composite mold-flashing. We offer side spoked and continuous rim 3" models.
Dynabrade Downdraft Systems & Tables
We offer a wide variety of standard and heavy-duty downdraft sanding tables. These tables are ideal for use with vacuum-ready or non-vacuum tools. Our metal tables offer a wet filtration system to capture potentially combustible fillings and dust.
Dynabrade Dynascaler Flaps and Hub
Dynabrade is a leading producer of Dynascaler surface preparation tools. We offer replacement flaps and hubs for your Dynascaler tools. Buy in bulk to save!
Dynabrade Reciprocating Files Double Cut Swiss Pattern
Ward & Kennedy carries a variety of reciprocating files in a variety of lengths. We offer reciprocating files with double-cut swiss patterns in
Dynabrade Sanders & Polishers
Whether you need heavy-duty or light-duty sanding or polishing, we have the machine for you. Dynabrade has been a leading producer of abrasion tools since 1969. Dynabrade offers 8 types of sanding and polishing tools:
Dynabrade Tools
Dynabrade has been producing power tools since their founding in 1969. We carry a wide variety of Dynabrade tools, including:
Dynabrade Vacuums
Keep your workspace clean with workplace vacuums from Dynabrade. We offer vacuums for a variety of applications, including wall-mounted vacuums, portable vacuums, conductive vacuums and more. We offer:
Ward & Kennedy Supply & Design Solutions
Ward & Kennedy provides digital/die-cut solutions to the footwear, metalworking, woodworking, plastics, textiles, leather, foam, custom machining, and water jet cutting industries around the world. See our list of services here:
Contact Ward & Kennedy to shop for Dynabrade brand products online.