Shop Now – Buy Dynabrade Products Online
Since 1969, Dynabrade has been a developer of innovative tools for filing down metals and other hard materials. Every tool they manufacture has optimized air flow, scrap reduction, and overall performance. Their powerful grinders, sanders, and polishers are designed to be handheld without sacrificing power.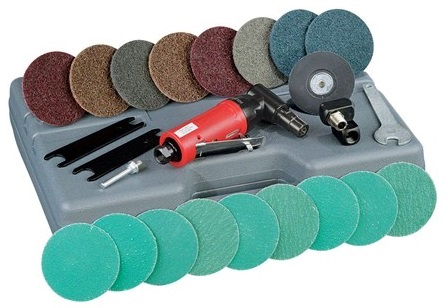 All made in the USA, Dynabrade abrasives and related finishing tools are available online from Ward & Kennedy Co.
Dynabrade products include:
Shop all our Dynabrade products online today to get everything you need for manufacturing, collision repair, and more. This brand is popular across a variety of industries:
Aerospace
Auto aftermarket
Wind energy
Woodworking
Marine
Whatever your line of work, there's a Dynabrade product to suit your needs.
V-V-I-S Tool Standards
Dynabrade tools are made to meet "V-V-I-S" standards, meaning:
Vacuum: Dynabrade vacuum tools are designed to remove airborne contaminants before they cause eye and lung issues.
Vibration: Long-term exposure to vibration can lead to injury, so Dynabrade tools reduce vibration using insulated rubber housings and handles.
Insulation: Dynabrade pneumatic tools use thermal-insulated housings to prevent cold air affecting the operator.
Sound: Power tools can generate loud, continuous sound capable of damaging your hearing. Dynabrade tools reduce sound levels without sacrificing power.
Ward & Kennedy Supplier Solutions
Ward & Kennedy is a top supplier of Dynabrade brand products. Our company has been a designer, fabricator, and supplier since 1928. We provide digital/die-cut solutions to the footwear, metalworking, woodworking, plastics, textiles, leather, foam, custom machining, and water jet cutting industries. Ask our team to fulfill all your product or supply needs.