3M™ General Purpose Vinyl Tape 764 Yellow, 2 in x 36 yd, 24 rolls per case
3M™ General Purpose Vinyl Tape 764 Yellow, 2 in x 36 yd, 24 rolls per case
Add

$199.00

worth of items to your cart to qualify for

Minimum Order Quantity:
24 ROL

Order In Bulk
DIMENSIONS
Height:

8.39 Inches
Width:

8.94 Inches
Length:

13.31 Inches
Weight:

19 Lb(s) 12 Oz
Product Benefits
Maintains vivid color even when exposed to abrasion and solvents
Available in a wide variety of colors for diverse applications
Conformable backing makes vinyl tape ideal for use on curved and irregular surfaces
Rubber adhesive provides good instant adhesion on many surfaces
Can be applied by hand or with floor applicator
Ideal for marking applications in light traffic areas
More Product Details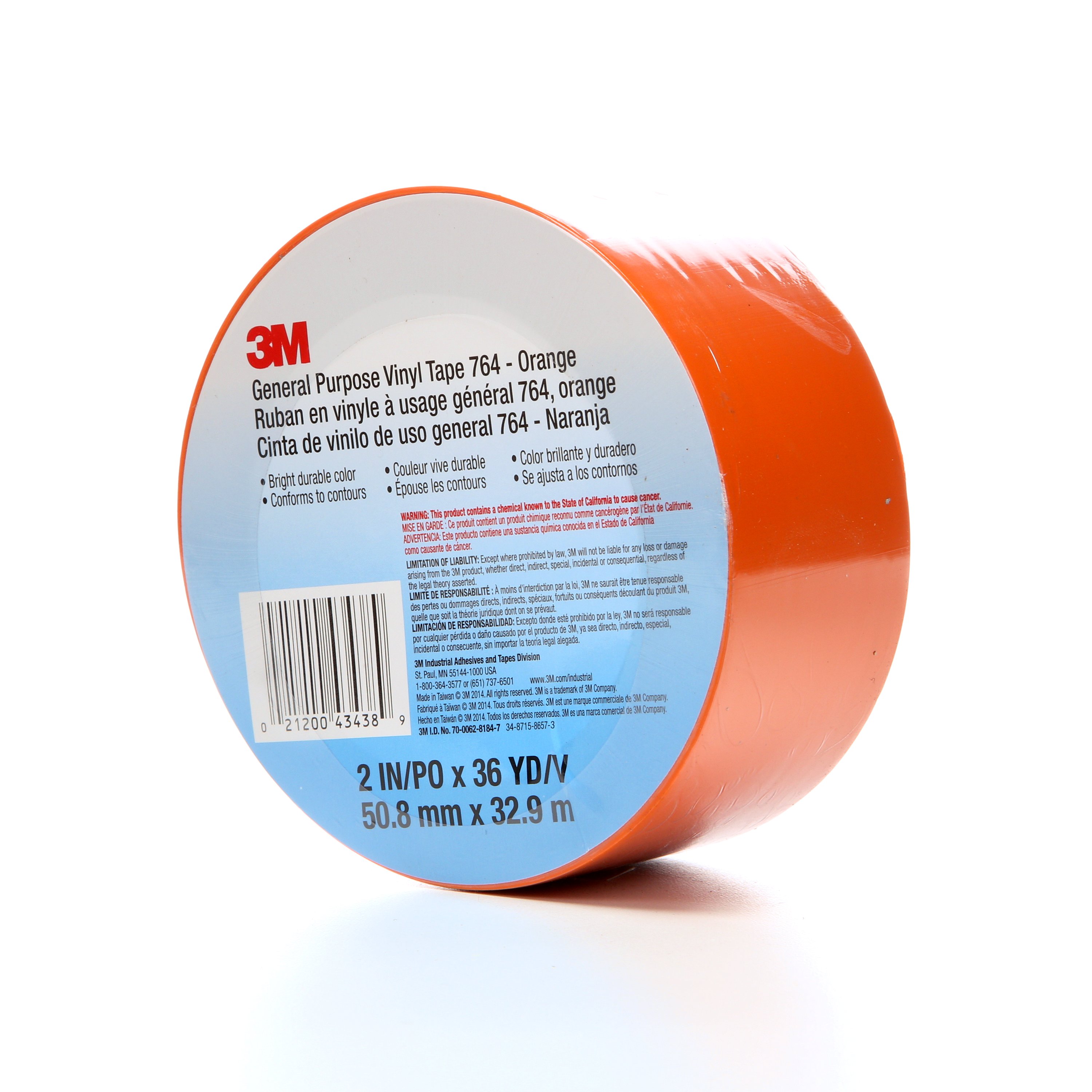 Code, Mark, and Protect
3M™ General Purpose Vinyl Tape 764
(PDF, 196 Kb) is a vinyl tape coated with a rubber adhesive and ideally suited for a variety of coding, temporary surface protection, bundling, marking and protection applications. The rubber adhesive offers quick stick and good holding strength on many substrates. Unlike messy paint solutions, this vinyl tape is quick to install and easy to clean-up. Conformability and instant adhesion makes 3M™ General Purpose Vinyl Tape 764 a good choice for marking and warning applications on floors, equipment, walls and pipes.
Recommended Applications
Floor marking
General purpose holding and bundling
Color coding (PDF, 78 Kb)
Marking of parts or machines
Temporary protection of parts, equipment or products from abrasion
Decorating
Bright Colors in Difficult Applications
3M™ General Purpose Vinyl Tape 764 features abrasion resistance to excel in light duty protection of equipment and parts. It maintains its color when exposed to abrasion and wear. These features, combined with easy removal properties, often makes 3M™ General Purpose Vinyl Tape 764 a faster, more versatile and less costly option than painting when used in marking and coding applications.
Bringing Better Ideas to the Surface through Science and Innovation
In the 3M Industrial Adhesives and Tapes Division, they apply the science of adhesion to deliver innovative solutions that improve the design and manufacturing processes of companies around the world. In the end, their technologies help customers like you deliver competitive products to the market faster and more efficiently.